The Latest from Sara Jane
Upcoming Appearances!
Saturday October 21st, 2017- Shameless Book Con 2017
Join me for Shameless Book Con 2017 in Orlando Florida! I will be signing copies of The Cinderella Fantasy. Also at my table, the amazing Samanthe Beck. We'll have giveaways, contests, and more. This is my favorite (and only) conference this year. I hope to see all of my lovely readers at #Shameless17!  
To learn more and purchase tickets, visit: http://bit.ly/2lV1yeO.
Early Reader Reactions to MIXING TEMPTATION (A Second Shot Novel)
I'm LOVING the early reviews for Caroline & Josh's story, Mixing Temptation! Thank you for taking the time to read and review!!
"Add in an unexpected road trip, facing up to your past, helping someone acknowledge that they deserve a better future, sweet, poignant and smoking hot sexy-times and more fun and games with all the characters that you have come to know and enjoy through the previous books in this and theIndependence Falls series, and this is a book I read in one sitting." ~ Robinson Reviews
"I will fan girl squeal with the rest of them that I finally got to read Josh's story. Yeah, the others in the series are hot, chunky and alpha to the core- but Josh has always rendered me a sighing, aww-ing puddle. I love his story and you will too." ~Reviews from the Heart
"The story makes you realize that as a society, we need to do more for the men and women who serve our country and put their lives on the line so we can enjoy freedom." ~ Yvonne, Goodreads Reviewer
To Tempt A SEAL Cover Reveal!
I'm counting down the days until To Tempt A SEAL, the first book in my super sexy Sin City SEALs series releases on 6/30/2015! My lovely publisher, Brazen Books, put together this little video to reveal the smexy cover image.
Enjoy!!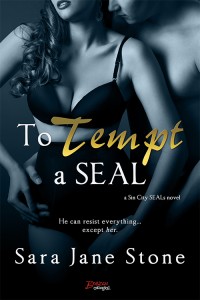 Hero By Night Blog Tour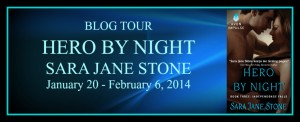 Join the HERO BY NIGHT Tour for giveaways, bonus scenes, deleted scenes, playlists and more!
January 21st, 2015
January 22nd, 2015
January 23rd, 2015
January 24th, 2015
Fictional Rendezvous Book Blog
January 25th, 2015
January 26th, 2015
January 27th, 2015
HEA Romances With A Little Kick
January 28th, 2015
January 29th, 2015
January 30th, 2015
February 2nd, 2015
February 3rd, 2015
A One-Click Addict's Book Blog
I Feel the Need, the Need to Read
February 4th, 2015
February 5th, 2015
February 6th, 2015
Ramblings From Beneath the Sheets
Your Favorite Book Corner Blog
Mr. Stone's Suggestions for Mixing Temptation (That Didn't Make the Book)
I love answering questions from readers. And ones that I see more and more are: how supportive is your husband? Does he read your stories? Does he offer suggestions?
Mr. Stone is amazing. He watches the kids while I write and listens while I plot out loud. But no, he doesn't read my stories. He works a lot and his leisure reading is limited to what the kids want to hear. And he never (unless asked) offers suggestions for 'Those Scenes.' (And yes, I'm talking about the steamy scenes. I write romance and have a pretty good idea where your mind went when you read the title for this article:)
 However, with this new series, he took an interest in the bar setting. He loves mixing up cocktails. Now Big Buck's Bar, the fictional setting for the Second Shot series, caters to Oregon loggers and college students. It's know for it's beer thanks to Josie, the heroine from Serving Trouble (Second Shot #1). I'll be the first to admit I love a good craft beer or a glass of wine, but I don't drink cocktails. Mr. Stone knows this and volunteered to help with the fictional drink menu. After all the college and grad students who frequent the bar love a good Bloody Mary on Sundays. And Dominic, the hero of Stirring Attraction (Second Shot #2), enjoys a good martini.
If you're looking to mix up a drink after reading the series, Mr. Stone suggests:
The Portland Proper
Ingredients:
2 oz rye
½ oz sweet vermouth
¼ oz lemon juice
3 dashes orange bitters
(2) 1" wide lemon peel slices
Directions:
Pour rye, vermouth, lemon juice, and bitters into a cocktail
shaker.
Shake vigorously for 8-10 seconds.
Pour over extra large ice sphere in chilled Mason jar.
Squeeze lemon peels over drink to mist with citrus oil then drop in.
The Monmouth Mary (for four)
Ingredients:
12 oz vodka
24 oz V8 (low sodium)
4 oz lemon juice
12 dashes orange bitters
12 dashes Tabasco sauce
3 drops pine essence oil
(8) 1" wide lemon peel slices (2 per serving)
4 small fir sprigs
Directions:
Pour vodka, lemon juice, bitters, Tabasco sauce, and pine oil into a large cocktail shaker.
Shake vigorously for 12-15 seconds.
Pour over ice in chilled mason jars.
Add V8 juice.
Squeeze lemon peels over drink to mist with citrus oil then drop in.
Garnish with a fir sprig.
The Beer Pie Smash
Ingredients:
4 oz Oregon Beer
1 oz Appleton Estate Reserve Rum
½ oz simple syrup
¾ oz lemon juice
3 dashes orange bitters
½ cup crushed ice
(2) ¼" orange slices
Directions:
Pour rum, syrup, lemon juice, and bitters into a cocktail shaker.
Shake vigorously for 8-10 seconds.
Mash orange slices in chilled Mason jar.
Add crushed ice.
Pour drink over crushed ice in chilled Mason jar.
Top with beer and stir lightly.
Join Sara Jane Stone's Street Team!
Love the Independence Falls series? Can't wait for my next release? Join Sara Jane's Seducers! My street team members will receive sneak peeks into my upcoming books, advance reading copies and the chance to win signed books, and much more! 
Bloggers, readers, and reviewers welcome! I'm looking for readers who love my stories and are eager to help me spread the word about my books by leaving reviews, sharing buy links on social media and on your blog (if you have one, not required).  
To join, please fill out the following application so we can get to know each other better!
Caught in the Act Blog Tour September 15th-October 10th

Sept 15th- GenGen's Book Blog
(Stop 2) Craves the Angst
(Stop 3) Bibliophile Mystery
Sept 16th-  Breathless Ink
(Stop 2) Pretty Girls Read Books
Sept 17th- Rakes of Romance
Sept 18th- Hot Guys in Books
(Stop 2) Jen's Reading Obsession
Sept 19th- Caffeine and Books
Sept 20th- Harlequin Junkie
Sept 21st- A Bluestocking's Place
Sept 22nd- What I'm Reading 
Sept 23rd- Redheads Review it Better
Sept 24th-  Ramblings From This Chick
Sept 25th- Christine's Words
(Stop 2) Queen of the Night Reviews
Sept 26th- Straight Shootin Book Reviews
Sept 29th- Book Liaison
Sept 30th- Brainy and Beautiful Book Blog
Oct 1st – The Lusty Literate
(Stop 2) Read it Woman
Oct 2nd- The Smutty Kitty
(Stop 2) Paola's Bookshelf
Oct 3rd – Romancing The Readers
(Stop 2) Romancing Rakes for the Love of Romance
Oct 6th- Manga Maniac Cafe
(Stop 2) At the Corner of First and Romance
Oct 7th- Love.Life.Read
Oct 8th- Crystal Blogs Books
Oct 9th- Book Freak
(Stop 2) As the Pages Turn
Oct 10th- Books Like Breathing
Full Exposure Blog Tour & Giveaway: June 30th-July 25th

Follow the FULL EXPOSURE Blog Tour and enter to win a Kindle!! Read reviews, interviews, and much more!
June 30th- Melinda Dozier Blog & A Tasty Read Book Reviews
July 1st- What I'm Reading & Brit Nanny Reads
July 2nd- Born to Read Books &  LJ's Secret Addiction
July 3rd- The Lusty Literate
July 4th- Girl Meets Books
July 7th- Snarky Mom Reads & Harlequin Junkie
July 8th- Romancing the Readers &  Straight Shootin Book Reviews
July 9th- Crystal Blogs Books & GenGen's Book Blog
July 10th- Literary Nook
July 11th- Hot Guys in Books
July 14th-TBQ's Book Palace & Illustrious Illusions
July 15th- Ramblings From This Chick &  For the Love of Bookends
July 16th- Storm Goddess Book Reviews
July 17th- The Many Faces of Romance &  Guardian's Hangout
July 18th- Redheads Review It Better
July 21st- The Smutty Kitty & Give Me Books and Boxes
July 22nd- Plain Talk Book Marketing
July 23rd- Kinky Vanilla Romance
July 24th- Pretty Girls Read Books
July 25th- Racing to Read & Ramblings of a Book Lunatic
Sold! Two books to Amanda Bergeron at Avon Impulse!
The official announcement from my fabulous agent Jill Marsal:
Sara Jane Stone's FULL EXPOSURE, about a young woman who returns home from serving her country and takes a job as a nanny working for her brother's best friend who also happens to be her long-time crush to Amanda Bergeron, at Avon Impulse, in a two-book deal.
Sold! Two More Books To Harlequin Blaze
Last was the best week in my writing career thus far. It began with my debut novel, COMMAND PERFORMANCE, releasing in e-book (it is now available in print, e-book, and audio!). Readers started posting reviews on Amazon, B&N.com and Goodreads.  And over at Amazon, COMMAND PERFORMANCE climbed the Blaze and Military bestseller lists.  
On Thursday, I was excited to see the sales figures for the first full week of the print edition. (As a former sales rep, I LOVE sales figures.) After checking the numbers, I logged into my RWA Bookscan account. I scanned the Top 100 Romance titles sold (in print) and found my debut novel. Wow. Thanks to the enthusiastic response from readers, my first book was one of the Top 100!! That afternoon my editor contacted me to set up a call to discuss future books. I set up a call for the next day during my daughter's naptime when my son would be in preschool.
Friday afternoon rolls around and Annabelle decides to wake up before the call starts. I had taken her to my husband's office as a backup plan, hoping he could watch her for a few minutes, but he too had a call. So I let her roam the conference room while I chatted about my proposed second and third books for Harlequin. My editor had lots of great ideas, which I quickly wrote down. Out of the corner of my eye, I noticed Annabelle dumping the leftover quinoa from lunch on the conference room carpet. I stayed focused on the call. Minutes later, she managed to pour water from her "spill-proof" sippy cup over herself and one of the office chairs. By the time the call ended, the conference room might as well have a huge flashing light over the table: "Toddler was here." But it was worth it. I had a good feeling about the call with my editor. 
An hour later, after I'd picked up my 3-year old and returned home with two grumpy, tired kids, I spoke with my agent. My editor had made an offer! Woo-hoo!! 
My next Harlequin Blaze, currently titled COMMAND CONTROL, is scheduled to release in August 2014. This will be my second installment in the Uniformly Hot! miniseries and the follow up to COMMAND PERFORMANCE. And my third, currently untitled Uniformly Hot! book, will release in the fall of 2014. More details on these books coming soon. What a way to end an amazing week!    
Next Page »